At the University of Maryland School of Social Work, our faculty members are consistently ranked among the most active and productive social work scholars and researchers in the nation.
Not only are our faculty engaged in teaching, research, and practice, but they are also accessible and dedicated to meeting students' needs outside of the classroom.
Faculty Specialty Areas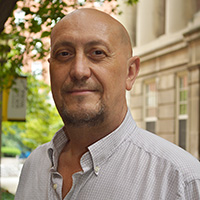 Dr. Alexandra Wimberly, Assistant Professor
Research Interests: Complementary health approaches for stress coping and substance use problems, including yoga and mindfulness meditation; Stress and substance use; Substance use and HIV interventions for people with criminal justice involvement; Continuing care for substance use
Email: awimberly@ssw.umaryland.edu | Room: 5E26
---
Dr. Michael Woolley, Associate Professor
Research Interests: Investigating in order to intervene in the social environment factors that influence success in school for students from kindergarten through high school with an emphasis on vulnerable groups of students and students exposed to known risk factors for poor educational outcomes. Such investigations include the influence of adults across the microsystems youth inhabit—home, school, and community—with a focus on interventions targeting the social climate in schools.The practice of social work in school settings, including the assessment of children, youth, families, and the social context of schools, interventions across clients systems in schools, and policy and program planning as it relates to the provision of social work in schools. Direct practice in social work including the foundations of practice and advanced practice with children, youth, and families.

Email: mwoolley@ssw.umaryland.edu | Phone: (410) 706-7839 | Room: 5E08

---