NASW-MD 2017 AWARD WINNERS FROM THE SSW
Five individuals with ties to the School of Social Work - three faculty members, one student and one alum - were recently honored by the National Association of Social Workers-Maryland Chapter during their annual conference with the following honors.
2017 Lifetime Achievement Award
Dr. Carlton E. Munson, MSW, PhD
Most Maryland social workers have likely attended a conference or workshop somewhere around the state that Carlton Munson has presented. If you haven't, you certainly know of his reputation as a man highly regarded in the field of social work. He is the consummate professional who not only looks the part but also lives the part. He has devoted his career to advancing clinical social work practice and supervision and has published more on clinical social work supervision than any other scholar in the history of clinical social work. He pioneered the first code of ethics for clinical supervisors and developed the narrative theory of clinical social work supervision.
Dr. Munson is a professor at the University of Maryland School of Social Work, and director of the Washington Area Supervision Institute at Woodstock Forest Center where he also operates his private practice, focusing on child welfare and child trauma. He was the first graduate of the UMBSSW doctoral program in 1975 and became director of the doctoral program from 1992 - 1999. He was a professor at Shepherd University (and established the BSW program there), Catholic University, University of Houston, and Fordham University in NYC. His teaching areas have been clinical supervision, clinical child welfare, and psychopathology. Dr. Munson's practice and research focus on trauma and loss in children, including international child abduction.
He has a special research interest in the effects of trauma on child development including a focus on receptive and language impairn1ents. Carlton has published seven books and more than 80 journal articles and book chapters, including; Handbook of Clinical Social Work Supervision, The Mental Health Diagnostic Desk Reference, and Social Work Supervision, which have been widely adopted as texts in the US and abroad. He is the founding editor of The Clinical Supervisor Journal. He was the clinician in a precedent-setting Maryland Court of Appeals case that affirmed the right of clinical social workers to perform DSM diagnoses, to testify as experts, and to testify to ultimate issues. The case has had national implications for the practice of clinical social work.
Carlton was born in Baltimore in 1940 when his parents moved there from Hagerstown, Maryland so his father, Maurice, could work at Bethlehem Steel building battleships. Carlton and his mother, Katherine, moved back to Western Maryland when his father was drafted to serve in World War II. Carlton and his wife Joan were high school sweethearts and married in 1960. He joined the US Coast Guard and served during the Vietnam War era. He dedicated 12 years to his military service and left as a Lieutenant Commander.
In 1964, Carlton was one of the first juvenile probation officers hired in Maryland. Two years later, Carlton and four other probation officers became known as today's Maryland Department of Juvenile Services.
Dr. Munson's mentors include Dr. Verl Lewis, the founding dean of the School of Social Work at the University of Maryland; Dr. Ruth Young; Dr. Daniel Thursz; Dr. Hans Falck; Dr. Harris Chaiklin; Dr. Ina Nucho; and Dr. Stanley Mazer.
Carlton's awards are numerous and he has been named an NASW Social Work Pioneer. In addition, he received the prestigious NASW Knee/Wittman Award in 2008, and a Lifetime Achievement Award for Forensic Social Work in 2016. In 2013, he was appointed to the Maryland Governor's Commission on Child Custody Decision Making, established by the Maryland General Assembly. He served as Chair of the Commission's Research and Literature Committee. He was one of the few clinical social workers selected to participate in the field trials for the DSM-5.
Carlton Munson has dedicated his professional career to the advancement of the social work profession. He is devoted to NASW. In fact, 2017 marks his 50th year as a member of our organization and serves as the chairperson of our chapter's Professional Standards Committee. He is highly respected by all who are fortunate to know him.
2017 Social Worker of the Year Award
Shae Allen, LCSW-C
Shae Allen is a social worker and doctoral student who has made outstanding contributions to the field of social work in the areas of student development and programs for both veterans and the aging populations. She piloted a veteran-specific Domestic Violence/Intimate Partner Violence program which led to a full-time, integrated position. She served as a voting member of the Maryland Healthcare Coalition Against Domestic Violence board. She has developed and conducted military/vet cultural competency and war-era health differences for the UMBSSW Health and Aging track courses for the past three years. She served as a liaison faculty member for the Health Education and Leadership Scholars (HEALS) program, facilitating veteran and aging training for health and HEALS students, and has played an instrumental role in the inclusion of social work as a key discipline for education within the Baltimore VA's teaching atmosphere.
Her accomplishments as a field instructor and member of the Intern Training Committee include facilitating a macro rotation and making significant contributions in developing a comprehensive Student Lunch and Learn curriculum, and she expanded skills training, leadership development, macro social work integration, topics on aging, and interdisciplinary team training. She is the Caregiver Support Coordinator for the Baltimore VA Medical Center and has recently begun to expand community collaborations for the caregiver program. Shae is also a veteran who believes in giving back to her community.
Her greatest achievement may be the way she has increased awareness and understanding of veteran culture through trainings in academic settings and her work with students. She is a positive role model and influence to both her students and colleagues. She identifies strengths in others and encourages them to pursue opportunities that will lead to their own advancement, as well as to the advancement of those they serve.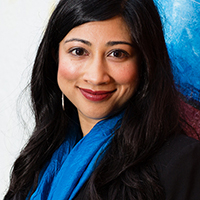 2017 Social Work Educator of the Year Award
Nalini Negi, MSW, PhD
Dr. Nalini Negi is an associate professor at the University of Maryland School of Social Work whose research has emphasized the social etiology and mechanisms that confer risk of psychological distress and substance abuse among migrant populations such as Latino trans-migrants (those who move back and forth between borders) and day laborers. She has been published extensively in scientific journals such as Research on Social Work Practice, Advances in Social Work, and International Social Work, and has edited two books. She is often found in the Latino community listening and supporting community members who are impacted by the most recent immigration ban and providing them with supportive and informative resources on campus and in the surrounding community. She is the chairperson of the UMBSSW Latino Student Association, and for the past two years has been co-lead on the UMBSSW Diversity and Anti-Oppression group pushing relevant school, community and curriculum responses to the issues of racism, oppression, and social justice. Her work is timely and imperative to our social justice principles.
2017 Field Instructor of the Year Award
Lane Victorson, LGSW
Lane Victorson has been a field instructor at the University of Maryland School of Social Work since 2005 and is clearly an inspiration to the students he leads. He has been involved in community practice ever since serving in the Federal Islamic Republic of the Comoros Islands as a Peace Corps Volunteer from 1992-1994. Lane currently works with University of Maryland School of Social Work's Social Work Community Outreach Services (SWCOS) as the director of all community organizing initiatives. This includes coordinating the Neighborhood Fellows Program and serving the role of a Clinical Faculty Field Instructor for 8-10 students. The fellowship places students with organizations and schools working within Baltimore City neighborhoods on a variety of community revitalization and building initiatives. Additionally, Lane coordinates the UMB Paul D. Coverdell Peace Corps USA Fellows Program which offers competitive fellowships to returning volunteers who attend the UMB School of Social Work
Lane is an alumnus of the UMBC Shriver Center Peaceworker Program, another fellows program that drew him from the high plains of Kansas to Baltimore City where he has been a resident for nearly 20 years. Lane is also an adjunct professor for the UMBSSW teaching courses in Macro Practice, Community Organizing, and Community Economic Development
2017 MSW Student of the Year Award
Alessandro Zannirato, PhD
Alessandro Zannirato is working toward his MSW at the University of Maryland School of Social Work to become a multilingual psychotherapist. He plans to work with international clients in the US and on international humanitarian missions. Alessandro lived in South Africa for several years and met countless individuals whose lives had been ravaged by poverty, violence, HIV/ AIDS, and mental illness, which inspired him to become a social worker. He has studied and worked on three continents, has 14 years of experience as an educator, and is fluent in four languages (English, French, Italian, and Spanish).
He earned an MA degree in Foreign Languages from S. Pio V University of Rome, Italy and a doctorate in philosophy from University of Cape Town, South Africa. He is currently on the faculty of Johns Hopkins University.