Leaders of the Social Work Community Outreach Service (SWCOS) of the School of Social Work (SSW) joined other community partners andUniversity of Maryland, Baltimore (UMB) volunteers for some monkey (bar) business that ended in a ribbon-cutting ceremony.
The activities of Sept. 15 marked the building of a new playground at a West Baltimore school, whose students awaited final completion until Sept. 22. On that day, four classes of pre-K and kindergarten children became the first to experience the thrill of playing on the new equipment.
(View a photo gallery.)
Nearly 200 volunteers over a span of six hours helped to complete the playground at the Harlem Park Elementary/Middle School. The new play space features 18 play structures spread across 2,500 square feet of what was once a vacant, sandy lot. Children had to wait for installation of a protective surface before taking their first trips on a triple-slide or rock-climbing ladder.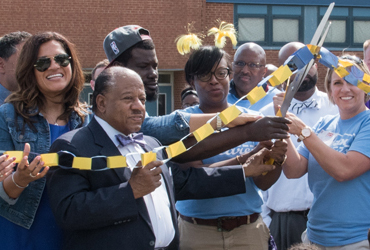 The Pre-K-8 public school serves nearly 400 students in the Harlem Park/Sandtown-Winchester neighborhood, and is among the Community Schools overseen by SWCOS. In a lengthy planning process, students were given input. "The kids drew what they wanted, and put all their thoughts together," said Community Schools coordinator Danielle Harris, LCSW-C.
KaBoom! associate program manager Imani Jackson describes the play space as "more than a playground." KaBoom! is a non-profit organization aimed creating play spaces for children, particularly in disadvantaged communities.
"It's a brain expander, friend maker and muscle builder," said Jackson.
The experience was so much fun from the viewpoint of a 5- or 6-year-old that numerous kindergarten students took turns thanking and hugging Principal Denisha Logan at the end of their first recess. "Ms. Logan, can we come back tomorrow," asked a boy named Aiden. "Every single tomorrow?"
Partners participating in the build included the CarMax Foundation, teachers, staff and parents from Harlem Park Elementary Middle School, Play More B'More, The Family League of Baltimore, and Baltimore City Public Schools.
Wendy Shaia, EdD, MSW, executive director of SWCOS, Becky Davis, MSW, director of organizational sustainability at SWCOS, and Karen Powell, assistant director for the Positive Schools Center attended the build.