contact
Chrishna Williams, MS
Director of Development and Alumni Relations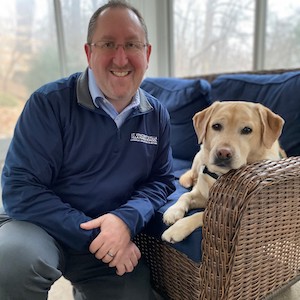 Ezra Buchdahl, MSW '88 - Alumni of the Year Award
Ezra Buchdahl has been with Catholic Charities of Baltimore for over 33 years. He worked as a clinician, clinical supervisor, and Associate Administrator for the Center for Family Services Treatment Foster Care program for the first 13 years. For 3 years, he worked as an Administrator in Catholic Charities SeniorLife Services Division, where he provided administrative oversight for their Medical Adult Day Services Program, two Senior Independent Living Programs, and an Information and Referral Program. For the past 20 years, he has worked in the Family Services Division, first serving as the Associate Administrator for St. Vincent's Center and then Administrator for St. Vincent's Villa, Villa Maria School and the Adoptions programs. His "side job" and one that brings him great joy and satisfaction is serving as the Primary Handler for a rehabilitative facility dog, CARMEN. They work together to provide calm and comfort to the children, their families, and staff.
He received his B.A. at University of Maryland Baltimore County and M.S.W. from University of Maryland at Baltimore School of Social Work. He currently serves as Chair of the Maryland Association of Resources for Families and Youth RTC Coalition and served on the UMAB School of Social Work's Alumni Board from 2015 to 2021. He served as an Accreditation Reviewer for the Council on Accreditation (COA) from 2004 to 2010. He received the Catholic Charities Mission in Action Award in 2014.
Ezra credits his parents, Rabbi Gustav and Sheila Buchdahl, for laying the foundation for servant leadership and working for social justice. He is the proud father of Max, who is rabbinical school, and Sara, who will soon be going to graduate school for social work. He is also grateful for the love and support of his wife, Shelley Manner.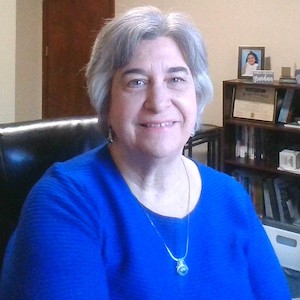 Debra Linsenmeyer, LCSW-C, MSW '75 – Emeritus Award
Debra A. Linsenmeyer is a graduate of both the University of Maryland School of Social Work's BSW program at UMBC (1974) and the Master of Social Work Program in Baltimore (1975) and holds a post-graduate certificate in Human Services Management.
Inspired by Ruth H Young, one of her professors at UMBC and later Dean of the University of Maryland School of Social Work, Debra's over 45 years of professional social work experience have focused on innovation, program development and promoting best practice within Maryland's public child welfare system. Along with colleagues at The Baltimore County Department of Social Services, Debra established the first Independent Living Program in Maryland for Youth and participated in the development of Baltimore County's first homeless shelter for families, School based Family Services, and Young Parent Support Center.
From 2000 until her retirement in 2021, Debra was a clinical faculty member at the University of Maryland School of Social Work, where she directed the Title IV-E Education for Public Child Welfare Program and supported Field Education in public child welfare agencies. Debra was
focused on the importance of social work education to successful client outcomes for child welfare practice and with the support of the faculty at the UMSSW authored and implemented two federal child welfare workforce demonstration projects (Excellence in Public Child Welfare Supervision (2004-2008) and a National Child Welfare Workforce Traineeship program (2009-2014). Debra was a member of the UMBSSW research team in 2013 that examined methods of teaching Motivational Interviewing to child welfare students and supported the integration of Motivational Interviewing into the field education of Title IV-E students. Debra is the mother of a 2018 alum of the SSW and currently a partner with Child and Family Systems Consultants, LLC.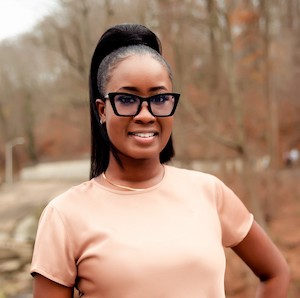 Shanda L. Brown, MSW '13 - Field Instructor of the Year Award
Shanda is a licensed Social Worker who is committed to promoting equity and opportunity for vulnerable and oppressed communities in Baltimore, Maryland. She has provided services to vulnerable individuals for over 20 years and was inspired to join the helping profession by her two late brothers who were born with physical and developmental disabilities. Shanda prides herself on being a multi – faceted Social Worker – serving in roles with multiple organizations as well as pursuing entrepreneurial endeavors in health, housing, and finance to meet the needs of the community via her business Zen LATELY.
Shanda currently works full time as a Clinical Coordinator for The Community Builders (TCB) where she has led teams to develop and implement trauma sensitive services and programs for non-elderly disabled residents living in Central West Baltimore. During her tenure at TCB, she has played a key role in several successful RAD (Rental Assistance Demonstration) projects which aims to support the long-term availability of affordable housing by converting public housing to long-term project-based contracts by leading services for crisis-driven populations during development and collaborating with development and property management teams.
Prior to joining The Community Builders, Shanda was the Director of External Programs for Aids Interfaith Residential Services (AIRS) where she was responsible for overseeing the delivery of services for several adult permanent housing programs geared towards transitional aged youth and RAD development contracts. She also pioneered the work for the Clinical Employment Services Workforce Development Program – a threefold effort between AIRS, BCCC, and BCDSS to support returning citizens, in-home partner/spouses and non-custodial parents of BCDSS families who receive BCDSS benefits.
Shanda also has an extensive history working in child welfare in the foster care division where she approved and licensed foster homes and served as a Team Administrator for housing – developing and implementing life skills trainings, vetting housing partners, and partnering with HUD for section 811 and housing choice vouchers for youth aging out of foster care.
Shanda notes that her success in this field is a direct result of her lived experience growing up in affordable housing, supporting her two late brothers who were disabled as well as the education and experiences such as the Title IV E and NCWWI program provided by University of MD School of Social Work.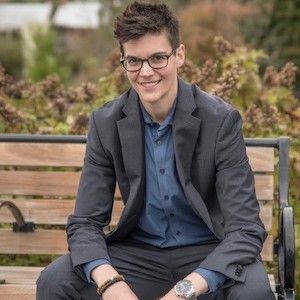 Lee Westgate, MSW '06, MBA, LCSW-C – Innovation in Social Work Award
Lee Westgate, MSW, MBA, LCSW-C (he/ him/ his) is the Manager of Policy & Advocacy at the National Association of Social Workers (NASW). Mr. Westgate is an out transgender advocate with extensive professional experience in social work policy, practice, research, and education. Mr. Westgate serves as a faculty member at the University of Maryland, School of Social Work and his scholarship includes integrated behavioral health, clinical work with LGBTQIA+ populations, medical social work, healthcare policy, and health equity. He serves as the social work faculty representative in MidAtlantic AIDS Education and Training Center's Preparing the Future program on behalf of the University of Maryland, School of Social Work and most recently participated in a HRSA-sponsored workgroup on COVID and HIV. Mr. Westgate has received the Exemplary Faculty Member of the Year Award and the Dean's Teaching Award for several semesters taught and has been featured in a variety of publications.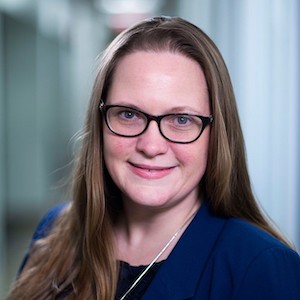 Elizabeth Aparicio, PhD '14 – Outstanding Recent Graduate Award (PhD alum)
Elizabeth (Liz) Aparicio, PhD, MSW, LCSW-C (UMB SSW PhD '14) is an assistant professor in the Behavioral and Community Health department in the University of Maryland School of Public Health. She directs the Community THRIVES Lab, a research group that conducts Community-engaged Transformative Health Research at the Intersection of family Violence, Early childhood, and adolescent Sexual health intervention. She is also the deputy director for clinical training and intervention for the University of Maryland Prevention Research Center. Dr. Aparicio is a community-engaged scholar whose work aims to improve health equity through informing and testing mental health and sexual and reproductive health interventions for trauma-affected and marginalized children, youth, and families. Using a trauma-informed care and reproductive justice framework, she has particular expertise in addressing the mental health and sexual and reproductive health needs of youth in and formerly in foster care and youth experiencing homelessness. Her research has been funded by the Annie E. Casey Foundation, NIH, CDC, and U.S. HHS Office of Population Affairs.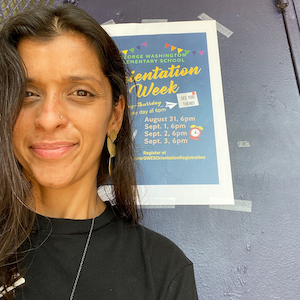 Seema Shah-Nelson, LMSW '20 – Outstanding Recent Graduate Award (MSW alum)
Seema Shah-Nelson is a Community School Coordinator with SWCOS's Positive Schools Center, working in the field at George Washington Elementary School in Baltimore City's Pigtown neighborhood. She was raised in New England and received her undergraduate degree from Oberlin College in Ohio. As a young adult, she lived in New York City where she worked in non-fiction publishing and later earned a degree and started a career in interior design. She started her family in the rural mountains of upstate New York, before moving to Baltimore City a decade ago and launching into a new career in social work. She is deeply dedicated to her adopted home of Baltimore City and its children and families. Her inspiration comes from her own two children, her spouse, all the adults who love, raise, and cultivate young people, and most of all— from the next generation of change makers.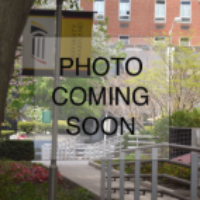 Marvin Rivas-Perez, MSW '17 - USG Recognition Award
Mr. Rivas-Perez always knew he wanted to spend his life giving back to the community but didn't know how or why until he started working at a wellness center in Montgomery County and learned about the social work career path. And Mr. Rivas-Perez has certainly succeeded in giving back to the Montgomery County community! While getting his social work degrees, Mr. Rivas-Perez had field placements at the Governers' Wellmobile and Linkages to Learning. After graduation he worked as a Child and Family Therapist at EveryMind and the YMCA, and now Mr. Rivas-Perez works as an ESOL Transition Counselor (ETC) in the Montgomery County Public School System (MCPSS). As a Transitional Counselor Mr. Rivas-Perez provides counseling services to English Language Learners (ELL) using a Cross-Cultural and Trauma-Informed Perspective. This work is critically important for helping students to succeed academically, adjust to new social and cultural environments, and stay meaningfully connected to their culture. Mr. Rivas-Perez says "seeing student and family accomplishments such as advocating for themselves and successfully navigating the school system" are some of the most rewarding aspects of his work.