Financial Social Work Opportunities for MSW Students


Financial Support
The following opportunities are available:

-- The Woodside Foundation Scholarship Endowment in Financial Social Work, available to all students. Incoming first-year students can find info under Merit Scholarships. Advanced-year students are considered by application found under Scholarships for Students Entering Their Advanced Year.
-- The SunTrust Foundation Scholarship Endowment in Financial Social Work, available to incoming, first-year students and info can be found under Merit Scholarships.
2018 UNIVERSITY OF MARYLAND, BALTIMORE, SCHOOL OF SOCIAL WORK SCHOLARSHIP BRUNCH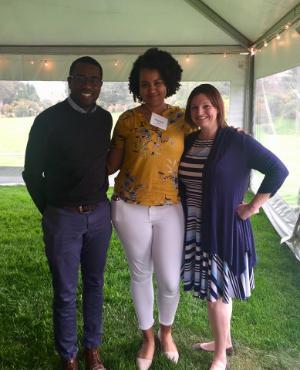 From left to right: Anthony Carter (2017-18 Woodside Scholar); Charisse Carter (2017-18 SunTrust Scholar); Dr. Jodi Frey (Chair, Financial Social Work Initiative).
Field Placements
Within the School's overall database of field placements, certain placements incorporate the skills of financial social work and provide exposure to this emerging area of national practice. For example, some placements within SWCOS, the Macro concentration, and the Employee Assistance Program (EAP) sub-specialization provide financial capability learning opportunities.
Interested students should contact the Field Placement Office for questions about placement opportunities.
Internships
Internships may be available, both paid and unpaid, for students to learn and use financial social work skills in community-based organizations across various populations.

Volunteer Opportunities
Volunteer opportunities for students wishing to work with clients or at community-based asset building programs will be posted here as they become available.

Career Opportunities
FSWI Co-Founders Robin McKinney '01 and Meg Woodside '07 discuss micro and macro financial social work career opportunities in the video presentation Financial Social Work + Economic Justice Careers presented at a 2017 social work career symposium.
Offices and Programs
University's Office of Student Financial Assistance & Education Programs
Connect on LinkedIn - Facebook - Twitter | Contact Us | fsw@ssw.umaryland.edu