Email: jessica.orth@ssw.umaryland.edu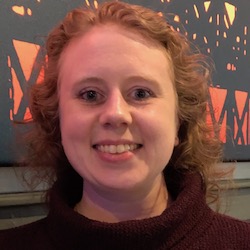 Jessica Orth is a health services researcher with interests in patient safety, dementia, long-term care, and variations in health care delivery and outcomes. In particular, her doctoral dissertation examined the quality of end-of-life care for nursing home residents with dementia and the impact of nursing home patient safety culture on end-of-life care outcomes.
Jessica received her doctoral training in health services research and policy at the University of Rochester. She holds an MPH with a specialization in population health analytics from the University of North Dakota, an MS in statistics from The University of Iowa, and a BA in statistics from the University of Minnesota – Morris.
As a postdoctoral fellow at the University of Maryland School of Social Work, Jessica is working with Dr. John Cagle to manage an NIH-funded study of an intervention program among long-stay nursing home residents with cognitive impairment. In addition, she collaborates with Dr. Cagle on several interdisciplinary research projects regarding hospice care, caregiving, and advance care planning communication. These experiences are highly complementary to Jessica's prior work as a health services researcher and are providing her with additional training in intervention research for nursing home residents with dementia.