INTERVIEW WITH CONNIE PHELPS OF AWARD-WINNING WOLFE STREET ACADEM‌Y
---
In 2005, Wolfe Street Academy, an elementary school in Upper Fells Point, was on the Maryland list for failing public schools. Ranked as the 77th Baltimore City elementary school, the student population had dropped to only 140 children and the school was on the verge of being shut down. For the 2005-2006 school year, Mark Gaither was hired as principal. By the following year, he had helped raise the test scores school-wide. It was that same year that Wolfe became a Community School, one of the first in Baltimore. As part of a national strategy that provides care coordination and services to the children and their families in the school's zoned neighborhood, Community Schools allow for parents, who often work multiple jobs, to have support and guidance from an in-school staff of employees like Connie Phelps, who has worked as Community School Coordinator at Wolfe Street Academy since 2006.
We sat down with Connie on an afternoon at the SWCOS office to chat about Wolfe Street and their remarkable turnaround over the past nine years. A turnaround so significant that they were recently recognized by The Coalition for Community Schools, one of three Community Schools in Baltimore to have received the honor. In fact, Baltimore received the overall initiative award for the success of their many community schools throughout the city.
‌
How many years have you been at Wolfe Street? What did you do before that?
Connie Phelps: I have been at Wolfe Street Academy as the Community School Coordinator for nine years. Before that my social work career was varied – while living in New York, I worked at a residential treatment center for youth, provided home-based services for children at risk of out-of-home placement, and I served as an Organizer for 1199/SEIU, a healthcare workers union. It was all great preparation for working as a Community School Coordinator, which involves some clinical skills, aspects of non-profit administration, and plenty of community organizing.
Wolfe St. was among three Baltimore City Community Schools to win this national award. What do you think are the main factors that have contributed to the school's turnaround? Going from 77th to 2nd on the list in nine years is remarkable. Obviously the fact that it's a Community School has had a significant effect.
CP: The most important thing to remember about "Community Schools" is that it's a strategy, not a program. The Community Schools strategy involves pulling all of the stakeholders in the school together – administration, teachers, parents, community members – to identify the barriers to learning that are faced by the students at that particular school. Then this inclusive leadership team uses a Community School Coordinator to reach out to resources in the community – be they universities, health care and social service providers, or faith-based organizations – which then help students and families overcome those barriers.
At Wolfe Street Academy, using the Community School strategy, we have created a web of programs and partnerships which, taken together, have caused the school to improve over time. Primary among these partners is our charter school operator, Baltimore Curriculum Project, which for the past seven years has assisted us in implementing a rigorous curriculum, and with oversight and professional development for teachers. We now offer universal access to our after-school program, which includes additional academics, tutoring, sports (soccer, baseball and tennis), art, music, chess, and robotics. All of the kids who are in the after-school program receive three meals a day at the school. We have over twenty community partners, some of whom provide funding, others do health screenings or organize sports, some provide volunteers. They are all part of the web of support inherent in a Community School.
Talk a little bit about the specific results that you have seen at Wolfe Street Academy.
CP: In 2005, WSA was slated for state takeover due to many years of low test scores. Thus throughout our time as a Community School, we have sought to achieve an academically successful school that will prepare our students for their own success in middle school and on into adulthood. Since 2006, our test scores have steadily improved. We have done this by creating an array of opportunities and services that address barriers to learning inherent in the academic, social, emotional, and physical conditions of our students and their families. This, in turn, has moved the benchmark on indicators of school success in the areas of test scores, enrollment, attendance, chronic absenteeism, student mobility rate, and participation in out-of-school-time programming.
See below for a list of the successes over the past nine years as a Community School*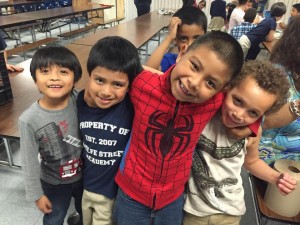 Do you have a story that exemplifies the benefits of being a Community School?
CP: Juan was a 2nd grade student with a strong lisp, which was masked by his Spanish accent. During a screening conducted at Wolfe Street Academy by students and professors from the University of Maryland School of Dentistry, it was discovered that Juan's tongue was attached to the floor of his mouth by an extra flap of skin, which reduced his tongue movement greatly.
This discovery led to a string of events – I worked with his mom to get Juan's Medical Assistance coverage re-activated and talked with her about her fears of having the corrective surgery done. A professor from the Dental School identified an oral surgeon in the area who could do a laser procedure, making the surgery as quick and painless as possible.
On the way home after his procedure, I heard Juan saying "bolsa, bolsa," over and over to himself – the word for bag in Spanish – and when mom heard it she smiled and explained, "He's never been able to say that word before." In addition to changing a school, this is how the Community School strategy can change a life.
What is next for Community Schools in Baltimore and for Wolfe Street Academy?
CP: We hope to help many more Baltimore City public schools successfully adopt the Community Schools strategy! Our most basic ingredients have been a dynamic, open–minded and consistent principal (Mark Gaither), teachers who care about learning and welcome partnerships, the example of strong Community School work being done throughout the country, and the dynamism of Baltimore itself. Recently Baltimore City Council approved a resolution calling for the Mayor to allocate an additional $4.2 million to expand the Community School strategy in Baltimore. We look forward to a bright future due to the leadership of the Family League and the support of our city council and the mayor's office.
At Wolfe Street Academy we are dreaming of doing even more on the site we have – our building is old, we don't have a gym, and we're bursting at the seams. So our dream includes a facility that could fully serve our community's needs. But of course in the short term we look forward to continuing to meet the ever-changing needs of our families and those who will be new to WSA next fall.
How about you…what do you do in your free time? I imagine you don't have a lot of it. Where might we find you on a Saturday afternoon in Baltimore?
CP: I grew up in Baltimore, and I love to spend time with my husband Jayson and my kids Nicholas and Malaika in any of our parks in and around the city - hiking, running, playing sports, or just relaxing. Patterson Park, Druid Hill, and Cromwell Valley are my favorites.
-------
*Successes:
- Enrollment has increased by 57%.
- Performance on the Maryland State Assessment has improved steadily since 2006. For example, the percentage of 5th graders scoring Proficient or Advanced in reading increased from 50 % in 2006 to over 95 % in 2014. For more results, go to: http://www.mdreportcard.org/MsaTrends.aspx?PV=1:5:30:0023:3:N:0:13:1:2:1:1:1:1:3
- In 2014, among 3rd-5th graders who took the MSA in reading, 80% of WSA students scored Proficient or Advanced in reading, as compared to 62% in Baltimore City overall.
- WSA has moved academically from the 77th to the 2nd most successful elementary school in Baltimore City based on MSA scores.
- WSA was identified as one of the top 14 highest performing Title I schools in Maryland in 2014.
- Student mobility rate reduced from 46.6% to 8.8%.
- Current Average Daily Attendance rate of 96%; Chronic Absence rate of 1%, compared to 3.3% in Baltimore City charter schools overall.
- In 2013 the Baltimore City Schools Superintendent recognized WSA as one of only 16 "80/80/80" schools in the city – schools with over 80% poverty, over 80% minority population, and scores of over 80% Proficient or Advanced on the Maryland State Assessment Tests.
- Expanded after-school and summer school programs by 50%, now serving 83% of our K-5 students until 5:40 PM. Became an official ExpandED school in 2014.
- Deepened the scope of our after-school program, which now includes extended-day academics, tutoring, sports teams, string instrument instruction, robotics, chess, drama, and more. Please see attached "WSA TV" video produced by after-school students and staff.
- Increase in partnerships from approximately five to twenty-six.
- Established the Friends of Wolfe Street Academy fundraising and advocacy committee in 2013, contributing to a 50% increase in funds raised from 2013 to 2016.
- Reduced suspensions (from 9 students to 0 students) over the past four years.
- Highly active, bilingual parent group with seven elected representatives, three of whom sit on our School-Family Council.
- In February 2015 WSA Special Education teacher Katrina Kickbush testified in a congressional hearing on education "We see how the effects of poverty can hinder a student's success in the classroom. But we also know that Community Schools, as an innovative reform model, can help support students, families and schools." Washington Post article with re-printing of almost entire testimony can be found at: http://www.washingtonpost.com/blogs/answer-sheet/wp/2015/02/07/teacher-tells-congress-we-simply-cannot-ignore-the-stunning-impact-of-income-inequality-and-high-child-poverty/

- In Fall 2014, 91% of our students received ratings of "typical" or "strong" on social-emotional competencies, as measured by Devereraux Student Strengths Assessment (DESSA).
More information and statistics about Wolfe Street Academy and Community Schools can be found at the following websites: http://www.communityschools.org/assets/1/AssetManager/Wolfe2015Awardee.pdf