UMSSW Assistant Professor Laurie M. Grahman 2023 Leading Women Honoree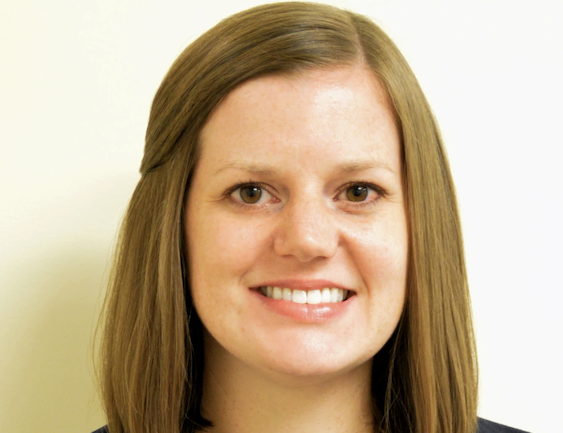 The Daily Record selected Laurie M. Graham from the University of Maryland-Baltimore, School of Social Work to receive one of the 2023 Leading Women awards.
Baltimore, Md., — The Daily Record selected Laurie M. Graham from the University of Maryland-Baltimore, School of Social Work to receive one of the 2023 Leading Women awards.
Dr. Laurie Graham is an Assistant Professor at the University of Maryland School of Social Work. Dr. Graham received her MSW and PhD from the University of North Carolina at Chapel Hill School of Social work where she was a Caroline H. and Thomas S. Royster Fellow. Dr. Graham's research interests include sexual and intimate partner violence and homicide prevention, supporting survivors of sexual and intimate partner violence as well as implementing community-based violence prevention programs.
Dr. Graham is currently working on several projects related to these topics that include analyzing data from the National Violent Death Reporting System (NVDRS), systematically reviewing international literature on child homicide in the context of intimate partner violence and adolescent dating violence prevention and building community partnerships to support on-the-ground violence prevention efforts.
The Daily Record's Leading Women awards honor women who are 40 years of age or younger for the accomplishments they have made so far in their careers. Winners were selected for the honor based on their professional experience, community involvement and commitment to inspiring change.
The honorees were selected by previous Leading Women and The Daily Record.
"This year's Leading Women are innovative leaders who don't miss a beat. They juggle demanding careers, families, personal health and well-being, and community service, just to name a few priorities," said Suzanne Fischer-Huettner, managing director of The Daily Record/BridgeTower Media. "They are committed to making a difference in their communities and inspiring change. The Daily Record is pleased to recognize their many accomplishments."
This year's Leading Women will be honored at a reception and awards celebration on August 23 at 5 p.m. at Gertrude's Restaurant at the Baltimore Museum of Art, 10 Art Museum Drive in Baltimore. A networking reception begins at 5 p.m. with the awards celebration starting at 6 p.m.
Winners will be profiled in a special magazine that will be inserted into the Aug. 24 issue of The Daily Record and will be available online at TheDailyRecord.com.
__________________________
About The University of Maryland School of Social Work
The University of Maryland School of Social Work develops practitioners, leaders and scholars to advance the well-being of populations and communities and to promote social justice. As national leaders, we create and use knowledge for education, service innovation, and policy development. Ranked by U.S. News and World Report among the top 10% of best schools for social work, the University of Maryland School of Social Work educates the majority of social workers throughout the state of Maryland with a strong focus on community-based programs in Baltimore and surrounding community. As an anchor institution in Maryland accredited by the Middle States Commission on Higher Education, our unique macro-level programming combined with our clinical focus in social work, has set the path for change-making policy in the state and nationally.
About The Daily Record
The Daily Record is a digital first, daily news media company focused on law, government and business at TheDailyRecord.com. The Daily Record publishes a print edition on weekdays in addition to more than 25 special products a year in a variety of industries. The Daily Record hosts 11 annual events to recognize excellence and provide leadership opportunities. These events include Maryland's Top 100 Women, Most Admired CEOs, Influential Marylanders, Health Care Heroes, Icon Honors and more. The Daily Record also facilitates webinars bringing local experts from the business community together to discuss current topics and trends. Its Digital Marketing Solutions helps customers with social media, search engine marketing and optimization, retargeting and email marketing among other services. The Daily Record, with 135 years of editorial excellence, is part of BridgeTower Media, the leading provider of B2B information, research, events and marketing solutions across more than 25 U.S. markets and industries.
2023 Leading Women Honorees
Alicia Hope Allen, Gilman School
Claudia Marion Allen, Howard County Office of Human Rights & Equity
Kirsten Allen, Brazen Consulting and Accounting
Dr. DaVida L. Anderson, Carroll Community College/Strong Sister, Silly Sister Inc./DLA LLC
Kristin Boulette, Leading Response
Jasmine A. Clemons, Comptroller of Maryland
Katie Collins-Ihrke, The Arc of Howard County
Jennifer Covahey, The CollegeBound Foundation
Jennifer Cox, Empower4Life
Catherine A. Dickinson, Schlachman, Belsky, Weiner & Davey P.A.
Susan DuMont, Miles & Stockbridge P.C.
Letam Duson, Office of the State Prosecutor/Ley All Day LLC
Meagan C. Fitzpatrick, Ph.D., University of Maryland School of Medicine
Sylvia Gayle, National Cancer Institute and White House National Security Council
​Julia Glanz, Maryland Department of Housing and Community Development
Laurie M. Graham, University of Maryland-Baltimore, School of Social Work
Haeli Gustafson, Meadow Mountain Hemp
Kate Hodges, Law Office of Thomas S. Hood P.A.
Sheri Hoidra, Sheri Hoidra Law Office LLC
Helen K. Hughes M.D., M.P.H., Johns Hopkins Medicine
Courtney McKay Jensen, Allegany College of Maryland
Jakeya N. Johnson, Tides Foundation
Kerianne P. Kemmerzell, Tydings & Rosenberg LLP
Joyce Roldan King, Frederick County State's Attorney's Office
Patrice Kingsley, CareFirst BlueCross BlueShield
Sarah Klein, Klein's Family Markets
Maria Marinelli, Calibyr Corporation
Jamie Lee Marks, Advisory Council on Historic Preservation
Toi Monique Mason, United States Attorney's Office, District of Maryland
Alexandra Shull McKitrick, Compass Government Relations
Alexandria Montanio, Gordon Feinblatt LLC
Danielle Moore, Office of the Public Defender
Anisha Queen, Brown, Goldstein & Levy LLP
Kimberly Castle Royster, Kimberly Services LLC
Sarah Sawyer, Esq., Offit Kurman
Susan Schipper, Venable LLP
Jordan Sosanya, HealthCare Access Maryland
Jessie Liang Su, Johns Hopkins University
Dr. Taiisha Swinton-Buck, Baltimore City Public Schools
Emily Wise VanderWoude, Hood College
Milana Vayner, Baltimore County Government
Caron A. Watkins, Baltimore City Office of Equity and Civil Rights
Nicole Wigfield, Komodo Systems Inc.
Ashlee Williams, M.D., Kaiser Permanente
Quiana Wormley, National Security Agency