MICHAEL ALLEN, MSW '03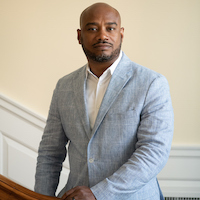 Michael Allen, is the Chief Executive Officer of Therapeutic Connections, where is responsible for the day-to-day operations. He manages all intakes, markets and networks with referral sources, and manages all the billing and fiscal responsibilities.
Mr. Allen came to Baltimore in 1998 after graduating to start his career in the social work field. He initially worked at Johns Hopkins Hospital in the Community Psychiatry Department as a Case Manager servicing homeless adults with behavioral health diagnosis. While at Johns Hopkins he applied for and was accepted into the University of Maryland School of Social Work (MACRO) where he completed his field placement at the University of Maryland Hospital, Shock Trauma Center. Mr. Allen became the Lead Social Worker at Shock Trauma Center in the Violence Intervention Program working with victims of interpersonal violence.
Seeking a different social work experience, Mr. Allen ventured into an Employee Assistance Program (EAP) where he worked as an Account Manager providing training, support and consultation services to small businesses, local, state and federal agencies, and nonprofit organizations. Mr. Allen was recruited to then work at the US Department of Health and Human Services as a consultant with Federal Occupational Health administration providing workplace health and wellness services for federal agencies.
Wanting independence and the opportunity for unlimited experiences, Mr. Allen created MAZCAN Enterprises, LLC, a training and consulting business that provides clinical, workplace, health and wellness, and continuing education training. Mr. Allen was been able to build a customer base of corporations, universities and human service organizations locally and nationally. He later established Therapeutic Connections LLC to provide behavioral health services for adults and children in Howard County in 2016.