Ezra Buchdahl, MSW '88 - Alumni of the Year Award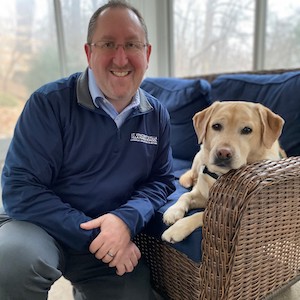 Ezra Buchdahl has been with Catholic Charities of Baltimore for over 33 years. He worked as a clinician, clinical supervisor, and Associate Administrator for the Center for Family Services Treatment Foster Care program for the first 13 years. For 3 years, he worked as an Administrator in Catholic Charities SeniorLife Services Division, where he provided administrative oversight for their Medical Adult Day Services Program, two Senior Independent Living Programs, and an Information and Referral Program. For the past 20 years, he has worked in the Family Services Division, first serving as the Associate Administrator for St. Vincent's Center and then Administrator for St. Vincent's Villa, Villa Maria School and the Adoptions programs. His "side job" and one that brings him great joy and satisfaction is serving as the Primary Handler for a rehabilitative facility dog, CARMEN. They work together to provide calm and comfort to the children, their families, and staff.
He received his B.A. at University of Maryland Baltimore County and M.S.W. from University of Maryland at Baltimore School of Social Work. He currently serves as Chair of the Maryland Association of Resources for Families and Youth RTC Coalition and served on the UMAB School of Social Work's Alumni Board from 2015 to 2021. He served as an Accreditation Reviewer for the Council on Accreditation (COA) from 2004 to 2010. He received the Catholic Charities Mission in Action Award in 2014.
Ezra credits his parents, Rabbi Gustav and Sheila Buchdahl, for laying the foundation for servant leadership and working for social justice. He is the proud father of Max, who is rabbinical school, and Sara, who will soon be going to graduate school for social work. He is also grateful for the love and support of his wife, Shelley Manner.