Convocation & Commencement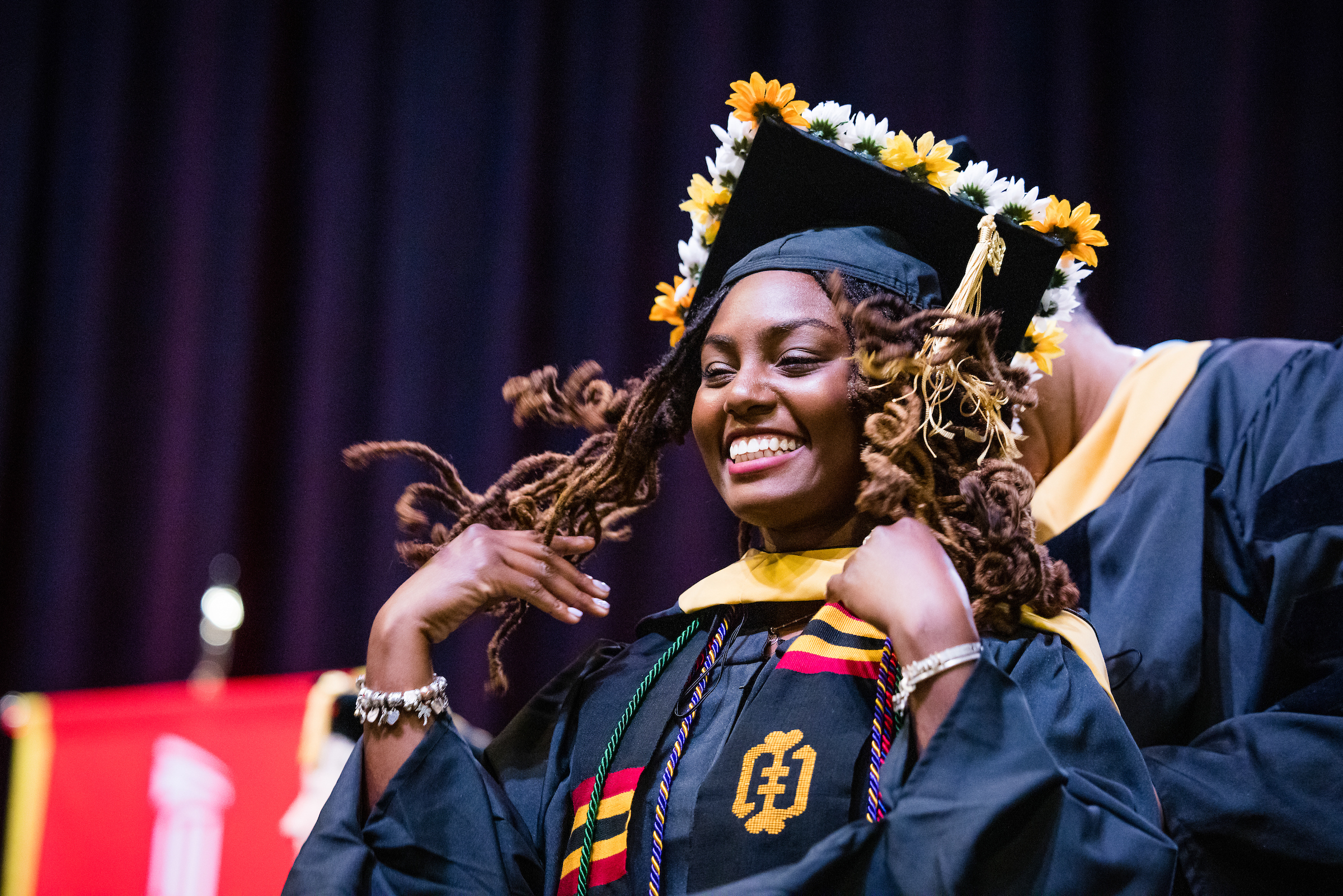 Do I need to register for Convocation?
No, graduating studens do not need to register for the SSW Convocation Ceremony. We have internal behind-the-scenes processes that allow us to be prepared for every graduating student to participate in the ceremony (although participation is not required). See you there!
Applying for Diploma
MAY (SPRING) GRADUATES:

Deadline to file an Application for Diploma is February 6, 2023.
Filing an Graduation Application is mandatory, please so here.

For questions regarding the process, please contact:
Office of the Registrar
601 W. Lombard Street, Suite 240
Baltimore, MD 21201
410-706-7480
410-706-4053 (fax)
Ordering Caps, Gowns, Rings, and Announcements
Regalia can be ordered online through Oak Hall iva this link.
Please note that the UMB store does not carry any regalia, ordering online is the only choice.
There is a $15.95 shipping charge for home delivery.
Full package for MSW regalia is $113.96
Hood only: $46.98
Cap only: $10.98
Tassel only: $7.98
PhD Students, please visit the site for information.
UMB Diplomas
Diplomas for May graduates will be distributed at the conclusion of the UMB All School Commencement Ceremony on Thursday, May 18, 2023.
May graduates who do not attend graduation may pick up their diploma at the UMB Registrar between June 22 and July 2. After July 2nd diplomas will be mailed to the address of record.
Diplomas for July (Summer) graduates are mailed in late August.
Tickets
Due to the size of the UMBC arena, tickets are not necessary. Looking forward to celebrating with you and your as many guests as you like!
The event will also be livestreamed: Link to be provided in May 2023
Parking
Parking at the Chesapeake Arena is free and plentiful.
IMPORTANT: Confidentiality Rules
If you have marked your name, major, attendance or degree as Confidential on the Directory Options in SURFS, your name will not appear in any campus Commencement publications. If that's not what you want, you need to change the settings before April 30.

We can't verify your attendance or graduation for future employers without your written consent if your name, major, attendance or degree are marked confidential.

To change confidentiality settings for directory information, logon to Surfs and go to the Personal Information menu and click on Update Directory Options
Exemplary Student Award Nominations
Each year, the UMB School of Social Work honors three students for outstanding achievement within the school and community; 1 each for Clinical, Macro and Field Practice. Students may be nominated by faculty, staff, students and/or field instructors.
Please use the guidelines below and provide a summary of why you feel the nominated student is deserving of the award.
Nominee must be graduating in December 2022, May 2023 or July 2023

Nominee has:

Demonstrated exemplary leadership

Been involved in volunteer activities that have motivated and inspired others

Been a success in advocating for others or organizations

Made a significant contribution to an organization or agency

Made a significant contribution to various client populations

Shown commitment to social change and action
Learn more about the Exemplary Student Award and Nominate a Student
Tips for a Great Convocation
The following guidelines are designed to help the morning go smoothly. Please share the information with friends and family so they will know what to expect on your big day!
Arrival: 12noon with your academic attire given the ceremony begins at 1pm
Parking: Info taken from UMBC Arena website. There are over 1,000 parking spaces in the four dedicated lots adjacent to Chesapeake Employers Insurance Arena with additional lots and parking garages located on campus within walking distance. Parking during event is free to patrons on a first come first serve basis. We highly recommend arriving a minimum of 1 hour prior
Graduating students will line up in the Auxillary Gym
Please respectfully adhere to the instructions of the staff and greeters who will be directing graduates and guests to the appropriate areas for the line-up, the procession and to the arena.
UMBC Security: Please adhere to the directions made by UMBC Security; the officers will assist with traffic flow inside and outside of the facility.
Professional Photos: Representatives from GradTrak by Grad Images will be taking a picture of each graduate with Dean Postmus while the student is being honored on the stage.
Personal Photos: Guests wishing to take pictures are to do so prior to and after the ceremony; family and guests should remain seated during the Convocation.
Line up: Before entering the arena, MSW graduates will line-up according to concentration.
Seating: Please ask family and friends to remain seated during the ceremony
No Balloons are allowed in the Arena
Ready to be a Changemaker?