PARI focuses on ADOLESCENT RISKS by promoting healthy practices during adolescence and taking steps to better protect young people from health risks; critical for the prevention of health problems into adulthood, especially those from vulnerable populations.

PARI PARTNERS with various teams across Maryland to improve victim identification through the creation and statewide implementation of resources and multidisciplinary teams to address sex and labor trafficking of children and youth.

PARI focuses on raising awareness and response to HUMAN TRAFFICKING to ensure human trafficking victims/survivors receive comprehensive trauma-informed care through capacity building of service providers and targeting existing services and resources.

PARI COLLABORATES with youth providers and state agencies to collect better DATA to INFORM DECISIONS and POLICIES. With a focus on the social determinants of health, risk and protective factors, PARI serves to increase the visibility and knowledge base for adolescent health issues through better data collection and information sharing at the national, state, and local levels.

PARI also serves to increase professional capacity through advocacy and training of child welfare and juvenile services professionals, health care providers, researchers, policymakers, and others to appropriately and effectively prevent, identify, and respond to adolescent health challenges.
Featured Resources
A Review of Current Human Trafficking Trainings & Professional Development Opportunities Accessible to Frontline Staff in Maryland (2017)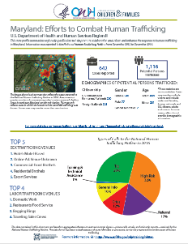 This state profile summarizes regionally specific data to help promote collaboration and inform and enhance the response to human trafficking in Maryland. Information was reported to the National Human Trafficking Hotline from December 2012 to December 2016.
Minor Sex Trafficking in Maryland (Infographic and Prezi Presentation)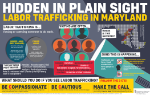 Labor Trafficking in Maryland (Infographic and Prezi Presentation)