Dr. Nadine Finigan-Carr
Nadine M Finigan-Carr, Ph.D., is a prevention research scientist focused on the application of behavioral and social science perspectives to research on contemporary health problems, especially those which disproportionately affect people of color. Her scholarship is grounded in theories and methods found primarily in the field of health behavior change among individuals and the environments. More specifically, she has focused on adolescent risk behaviors and their determinants.

Dr. Finigan-Carr began her career as a classroom teacher where she quickly realized that teaching was more than being aware of the educational needs of her students but also involved considering the physical and mental health needs. Currently, Dr. Finigan-Carr is the Director of Prevention of Adolescent Risks Initiative (PARI), and the Assistant Director for the Ruth Young Center for Families and Children. In this position she has research projects at both the state and federal levels designed to intervene with system involved youth – those in foster care or the juvenile justice system, for example. These youth have a double vulnerability – adolescence, a critical stage marked by increased risk for negative social and behavioral outcomes including aggression and sexual risk behaviors; and, being removed from their families of origin.
---
Neil Mallon, LCSW-C is a clinical social worker with University of Maryland, School of Social Work and a clinical field instructor and advisor to the University of Maryland SAFE Center. Mr. Mallon has over ten years of clinical and macro social work practice experience within a variety of service settings, including child welfare, mental health, immigration, staff training/development, research and evaluation. In his current role with PARI, Mr. Mallon works extensively with Maryland's Regional Navigators and Survivor Leadership Advisory Council. He has been instrumental in the development of the labor trafficking multidisciplinary teams to support victims and survivors. Mr. Mallon has assisted in the development of the the SAFE Center's trauma-informed and survivor-centered approach to practice and serves as a liaison to the State's public and private child serving systems to support cross system collaboration in service delivery for domestic minor victims of trafficking. Mr. Mallon earned a Bachelor's degree in Psychology from Towson University and a Master's degree in Social Work from the University of Maryland, Baltimore.
---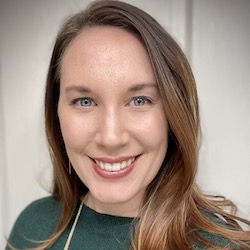 Briana McNemar
Briana McNemar (She/ Her) is a Clinical Research Specialist in the Prevention of Adolescent Risks Initiative (PARI) at the University of Maryland, Baltimore School of Social Work. She possesses over ten years of experience working with vulnerable and at-risk youth and families. Briana currently serves as the Project Coordinator for the Maryland Human Trafficking Initiative where she supports statewide efforts to improve outcomes for children and youth victims of human trafficking. Prior to her role at PARI, she served as a Program Manager for the Howard County Office of Human Trafficking Prevention where she focused on local system improvements, providing training and public awareness, protocol development and fostering a coordinated response between law enforcement, service providers and community stakeholders to address human trafficking at the local level. Briana holds a Master's degree in Forensic and Legal Psychology from Marymount University, with a Bachelor's degree in Psychology and Criminology from Drury University.