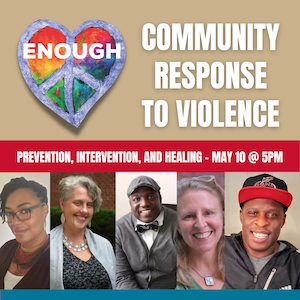 The Virtual 2022 Spring Daniel Thursz Social Justice event was on May 10, 2022 at 5 p.m. and focused on how organizations in our Baltimore community understand and respond to violence. Guest Speakers: Kelly Sparks, S.O.N.S. of Phoenix Rev. Corey Barnes, GraceCity Church Jakia Jones, Baltimore Ceasefire 365 Co-Moderators: Caroline Harmon-Darrow, PhD Kyla Liggett-Creel, PhD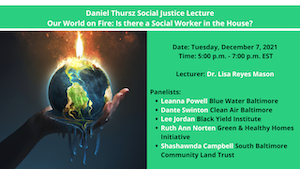 This two-part presentation included a lecture on environmental justice through the lens of social work, followed by a panel discussion of representatives from local advocacy and policy organizations who shared what they are doing in Baltimore and the surrounding area.

A discussion among leaders with lived experience about systemic efforts to address youth homelessness. The expertise and leadership of youth with lived experience of homelessness is necessary to address root causes of the problem and develop effective interventions, yet youth leaders too often are not involved in decision-making in a meaningful way. The discussion explores strategies for equitable collaboration between youth and systems leaders, services providers, and advocates in these efforts. Panelists include several young leaders who have experienced housing instability as well as an older adult advocate for solutions to homelessness.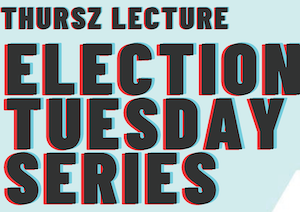 Elections are part of our larger national and local dialogues about the meaning of inclusion and exclusion in shaping our identity and values. This series of three events explored if, how, and why elections matter. If they matter — to what purpose? How can elections be used to effect change? What are some of the differences between working at the local, state, and national levels? What are the forces that impact our ability to participate in elections as voters, candidates, and social workers who seek to shape our society?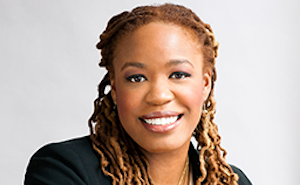 Thursz Social Justice Lecture with Heather McGhee of Demos.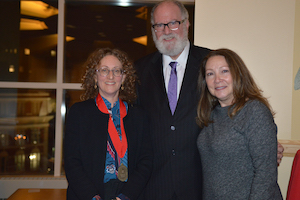 On Wednesday, November 13, 2019, an investiture ceremony was held on the UMB campus, Corey Shdaimah, LL.M., PhD, was installed as the University of Maryland School of Social Work's Daniel Thursz Distinguished Professor for Social Justice.
Former Sen. Barbara Mikulski, MSW '65, shared her passion for the University of Maryland School of Social Work (UMSSW), and advice for new social workers starting out in their careers, as she returned to her alma mater to deliver the Daniel Thursz Social Justice Lecture: "From Activism to Accomplishments: Promoting Social Justice from the Streets of Baltimore to the Halls of Congress," held in the SSW auditorium.