An Integrated Approach to Financial Well-Being & Economic Justice
Our Vision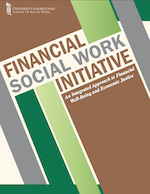 Read About FSWI Here
‌‌‌‌‌‌‌The Financial Social Work Initiative will serve as a platform from which the University of Maryland School of Social Work will undertake a leadership role in building economic strength in communities. Capitalizing on both its academic infrastructure and community outreach services, the School will accelerate the integration of social work practice and theory into the evolving fields of individual and community wealth building.‌
The University of Maryland School of Social Work will prepare social workers to advance the economic stability and financial wellness of individuals, families, and communities, with particular attention to vulnerable populations. As social workers, these professionals will be at the forefront of the development and delivery of a continuum of asset-building and financial security programs, services, products, and policy strategies by engaging in direct service provision, appropriate client referrals, research, evaluation, outreach, advocacy, and collaboration with community-based partners.
In addition to providing academic training, field placement experiences, research, and continuing education in financial social work, the Financial Social Work Initiative at the School of Social Work aims to actively build and support a professional network in this field. The School will promote the standardization and communication of practice tools to the field so it can meet the needs of the diverse communities it serves. The School's website will host the electronic aggregation of various tools, research sources, professional development opportunities, and other shared resources to benefit this practitioner network. The School will convene local and national dialogues to facilitate the exchange of ideas and best practices among researchers and practitioners.