Scholarships in Financial Social Work
The following opportunities are available:

-- The Woodside Foundation Scholarship Endowment in Financial Social Work is available to all Advanced-Year students .

-- The SunTrust Foundation Scholarship Endowment in Financial Social Work is available to incoming, first-year students. Please visit for a list of all available scholarships for incoming, first-year students and the online application portal.
2018 UNIVERSITY OF MARYLAND, BALTIMORE, SCHOOL OF SOCIAL WORK SCHOLARSHIP BRUNCH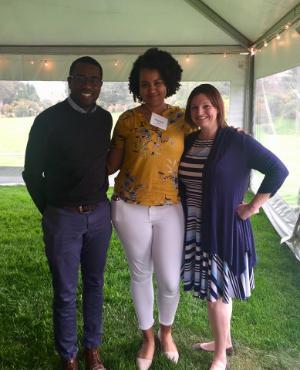 From left to right: Anthony Carter (2017-18 Woodside Scholar); Charisse Carter (2017-18 SunTrust Scholar); Dr. Jodi Frey (Chair, Financial Social Work Initiative).
Field Placements
Within the School's overall database of field placements, certain placements incorporate the skills of financial social work and provide exposure to this recognized area of national practice. For example, some placements within , the concentration, and the (EAP) sub-specialization provide financial capability learning opportunities.
Interested students should contact Denise Chop in the Field Placement Office for questions about placement opportunities.
Possible field placements include:
| CLINICAL | MACRO |
| --- | --- |
| Center for Urban Families - Couples Advancing Together (SWCOS) | CASH Campaign of Maryland |
| Epiphany Community Center's Rapid Re-Housing, Eviction Prevention and Family Stability Programs | Center for Urban Families - Policy Advocacy (SWCOS) |
| Friendship Place (Washington, DC) | Greater Homewood Community Association (Stronger City) (future) |
| Generations Family Services, Inc. | Maryland CASA Association |
| N Street Village (Washington, DC) (future) | Poppleton Community Development Corporation (SWCOS) |
| Paul's Place | Public Allies (SWCOS) |
| Promise Heights | |
| St. Agnes Cancer Center | |
| United Way Family Stability Initiative @ Ben Franklin High School | |
---
Internships
Internships may be available, both paid and unpaid, for students to learn and use financial social work skills in community-based organizations across various populations.

Volunteer Opportunities
Volunteer opportunities are available for students wishing to work with the FSWI Steering Committee. Please click here if you are interested.

Career Opportunities
FSWI Co-Founders Robin McKinney '01 and Meg Woodside '07 discuss micro and macro financial social work career opportunities in the video presentation Financial Social Work + Economic Justice Careers presented at a 2017 social work career symposium.