2019 EVENTS
Save the date for
FCAB "Face Time"
with your colleagues on Thursday, January 16, 2020, on the day that SSWR begins in the afternoon. Check out the
FCAB "Face Time"
for location and more details. More info to come!
Scholars are invited to submit papers that (a) analyze financial vulnerability and explore strategies to improve financial well‐being, (b) assess FCAB policy and practice among vulnerable populations, or (c) examine FCAB teaching approaches. Papers should identify the roles and contributions of social workers in policy practices. Three themes guide the research sought for this announcement: (1) social work practice, (2) social work education, and (3) social policy.
The attached document provides additional detail
.
Important dates
Deadline for submission: Tuesday, September 3, 2019
Notice of acceptance: Monday, October 21, 2019
Deadline for updated abstract: Monday, August 3, 2020
Deadline for full paper: Friday, August 21, 2020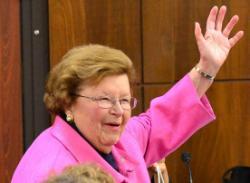 April 2, 2019
Spring Daniel Thursz Social Justice Lecture at the School of Social Work featured former U.S. Senator Barbara Mikulski
FSWI thanks former Senator Mikulski for her shout-out to Financial Social Work as a critical skill for social work students and practitioners in the field!
Watch the video clip here
. (33:02 through 34:47)
Connect with us @ Linked In | Contact Us | Email: fsw@ssw.umaryland.edu