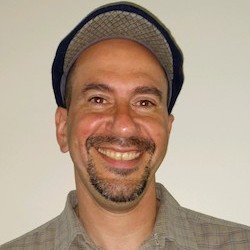 Jon Gilgoff, MSW, LCSW
Contact: jon.gilgoff@ssw.umaryland.edu

Jon Gilgoff, LCSW-C, is a PhD candidate interested in gender and culturally responsive practice, equity-building policy, and community-driven research that support the health of boys and men, particularly those from marginalized backgrounds. He has deep experience in youth development, behavioral health, conflict resolution, and anti-bias work. He is expected to defend his dissertation by August 2023.
Educational Background: Jon holds a Masters in Social Work from Columbia University in New York, and a Bachelors Degree in International Relations from Tufts University in Medford, Massachusetts.
Significant Accomplishments: Jon is founder and former Executive Director of the youth nonprofit, Brothers on the Rise (BOTR), for which he received a 2009 Jefferson Award for Public Service. Jon has been selected to participate in Fellowships covering executive nonprofit leadership, civic engagement, social justice, and ethnographic research with LeaderSpring, Lead East Bay, Progressive Jewish Alliance (now Bend the Arc), the Bowne Foundation/National Institute on Out-of-School Time, and Asset Based Community Development (a Co-Learning Journey).
Jon was BOTR's lead author for curriculum and professional development manuals which were used internally and to certify youth workers across four Bay Area counties to deliver BOTR programming. He has coached and consulted with school principals and county department directors. He has published widely in journals including Afterschool Matters, Journal for Community Engagement and Scholarship, The Changing Faces of College Men, and Suicide and Life-Threatening Behavior.
Professional Interests and Additional Experience: Jon is a bilingual Spanish speaking social work professional with extensive experience in health, human services, and social change. Besides his nearly 25 years supporting boys' and men's health through gender and culturally responsive practice, policy, and research, he has extensive experience in youth development, behavioral health, conflict resolution, and anti-bias work. He has held leadership positions within nonprofits, schools, and public agencies focused on direct services, community capacity building, and systems change through organizing and policy advocacy. He has worked on two statewide election campaigns. Jon has offered trainings and consultation to partners including the National Association of Social Workers, the California School-Age Consortium, Howard University, Sonke Gender Justice in South Africa, and Proyecto Aldea Global in Honduras. He has been a BA and MSW-level instructor at Holy Names, UC Berkeley, and the University of Maryland. His PhD research has focused on men's health policy, suicide prevention and equitable community-academic partnerships. His current job with the University of Maryland's IRIS project is to build capacity for substance use recovery organizations to utilize research to address the opioid crisis, including through a Fellowship which Jon designed and leads.